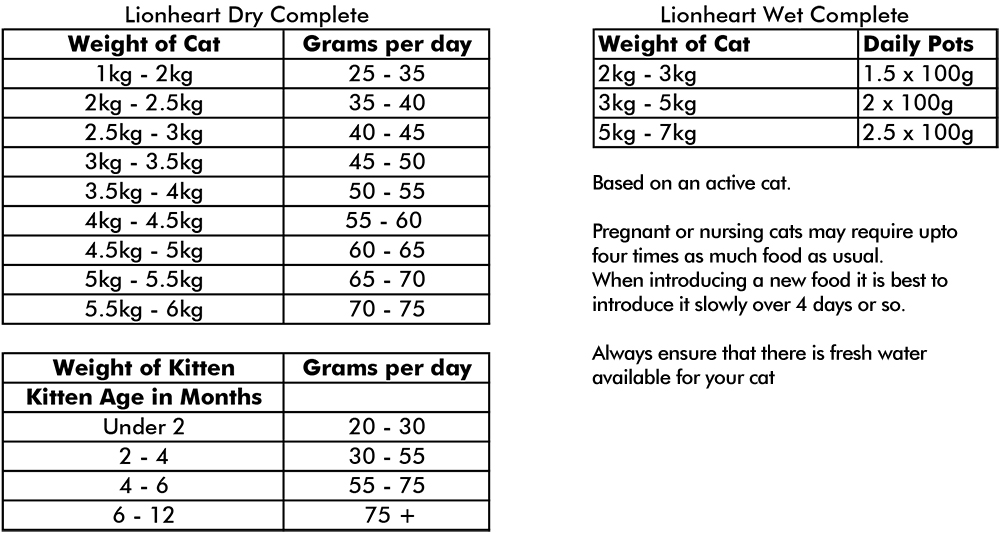 FEEDING GUIDE

Millies Lionheart Complete Cat food can be introduced at weaning, mixed with some water. When the kitten is fully weaned Millies Lionheart can be fed starting at approximately 20 - 30g split into 3 or 4 meals a day following the RDA. In the first few weeks the kibble may need to be crushed.

When feeding Millies Lionheart for the first time we suggest you introduce gradually over a week. On day one mix 25% Millies Lionheart with 75% of the previous food, on day three make it 50% of each, day five is 75% Millies Lionheart, working up to 100% Millies Lionheart on day seven. However, you understand your cat and as they are all individual go at the pace you would normally introduce a new food.

Each cat is individual and feeding amounts can vary significantly depending on factors such as your cats age, activity levels, metabolism and the environment. As a starting point we would suggest you begin at the lower end of our guide and adjust accordingly.
If your cat looks overweight reduce food intake by 10% If your cat looks underweight increase food intake by 10% Continue until the correct weight is achieved.